MetroBOX vs Taxibox Storage Services: 
What's The Difference?
Although we are both considered quality mobile storage services, Taxibox storage provides a slightly different range of services to MetroBOX. But And we believe our storage services will cost you less and are more secure for oh so many reasons! 
Skip down to the bottom for an easy comparison table between MetroBOX and Taxibox.
Or read on to find out how to come out a winner in mobile storage…
7 Reasons MetroBOX Rules The Mobile Storage Roost

If you're wondering why we think MetroBOX mobile storage is so much better, you can check out the full comparison in the table at the bottom of this page. Or in summary:
Professional Removalists: Our professional, in-house removalists will do all the heavy lifting and load / unload your MetroBOX storage units for one low, fixed upfront price. With Taxibox, you are left to do all the heavy lifting yourself or you need to hire a third party, removalist company to pay full price just to load your things.


Taxibox size: MetroBOXes hold 10m3 of your storage. Taxibox's size is smaller and they can only hold up to 8m3.


Stronger: MetroBOXes are 100% Australian made, constructed from durable, structural wood, held in place with industrial bolts and come with a structural engineering certificate. In other words, they are made to last! Taxiboxes are made from a light wood composite that can't compare!


Faster: It only takes about an hour per MetroBOX to get your belongings into secure storage. Self-loading a Taxibox usually takes between a few hours to a few weeks, depending on how fit you are and how strong your back is.
  

More secure: We won't leave your MetroBOX unattended – whether loading or storing, it's always secure.


Free aids: You don't need to hire additional moving trolleys or blankets – MetroBOX provides them FOR FREE! With Taxibox, you need to rent them at additional cost.


Free transport: All MetroBOX transport within metro areas is included FOR FREE! That includes both delivery and redelivery. Taxibox only do the initial delivery for free, unless you're storing for more than 6 months.


A Taxibox costs more: MetroBOX storage costs less per month and each MetroBOX is bigger: so you get more storage space for less. That's just numbers. But Taxibox also costs you more because they also don't include professional moving tools, so your belongings are much more likely to get shaken around and damaged in transit.
MetroBOX Overview

MetroBOX is a new company, but we grew out of a well-established (for over 20 years) and well-reputed professional moving and storage company, MetroMovers. The genius of MetroBOX is not just that we bring the storage unit to your address and transport it for you: that is not so unique. 
The real advantage to choosing MetroBOX is that you will get your storage loaded quickly and securely on the spot by our own trusted, professional, trained and experienced removalists. 

That means your belongings are never left unattended and your furniture will be wrapped and secured in place during transit. You also don't have to strain yourself to lift and load up your belongings because our removalists are experienced enough to really maximise your (already bigger) storage space.
MetroBOX Gives You More
Plus, with MetroBOX, you also get:
- 24/7 security at our clean, indoor storage facilities
- Free access to your MetroBOX 6 days a week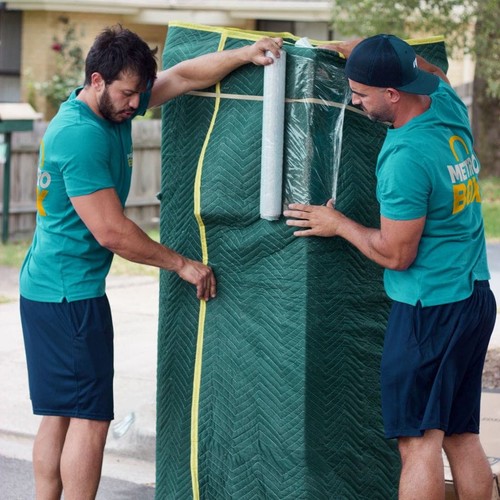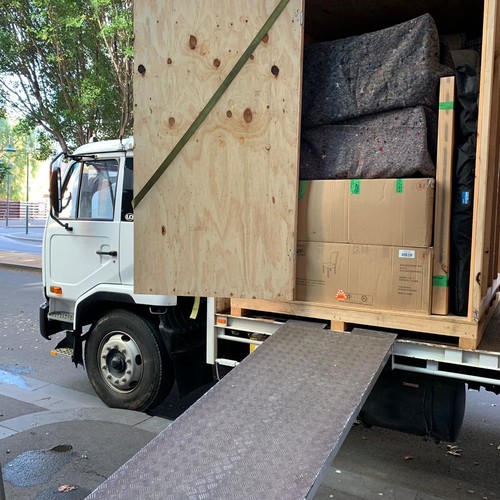 TaxiBOX Overview
Taxibox are one of the pioneers in the field of mobile storage and have put in the miles to make sure mobile storage is fun, friendly and accessible. You can get your Taxibox costs in a quote directly online (like with MetroBOX) and they will deliver your Taxibox to wherever you need within their delivery zones. 
Once they've delivered your Taxibox, they will leave it with you for however long you need to load up your belongings: whether it takes a day or a week. Then they can either transport it back to their storage facility (for a price) or, as is most often the case, leave it at your place as an onsite storage/ extra room for as long as you need.
Why Taxibox Onsite Storage Isn't Such A Great Idea After All…
In reality, most Taxibox mobile storage units are left sitting on your lawn or on the street in front of your home for up to a few weeks while you slowly do all the heavy lifting yourself. Standard Taxibox storage units are made from a lighter wood composite. Even though the Taxibox size is fairly small (8m3), while they're taking up space in your front yard they can also be damaged by the rain or strong winds. Plus they can be easily broken into, no matter what type of lock you use.
The Taxibox website also say they offer a removalist service option, but fit's provided by a third company who you'll have to coordinate and pay separately and costs a whole lot extra.
What Taxibox Storage Doesn't Offer (That We Do)
Taxibox self-storage provide a great solution if you're a fit, strong, young DIY type with some spare time on your hands. For the rest of us, hiring a Taxibox storage unit might be more trouble than it's worth!
MetroBOX will do all the heavy lifting for you, which means you don't have to spend the time, money and effort moving all your belongings back and forth to try and see what will fit inside your Taxibox size. MetroBOX also provide free furniture blankets and straps to ensure your belongings are steady and don't get jumbled while in transit. One of the most common complaints we've found about Taxibox is that once the storage is redelivered, everything has been bounced, boggled and damaged in the transit process. 
Speaking of which, all metro storage transport is free at MetroBOX, whether you order one MetroBOX or three or you're storing for a month or over a year. At Taxibox, delivery might be free, but redelivery within six months will cost $149 for one Taxibox storage unit, with discounts offered on each one thereafter.
Taxibox bring your storage unit and then unload it onto the street or into your front yard for you to load.
MetroBOXes are loaded straight onto our trucks, which means:
- The MetroBOX storage units stay stronger 
- There is minimal internal movement (plus your belongings are wrapped and strapped down inside the unit)
- No double handling of your belongings
- You don't need to make space for MetroBOXes in your front yard or on the street 
- Your belongings are always supervised and secure.  
Plus, at MetroBOX you get our premium storage consultants to help you through every step, which makes your life so much easier! 
Compare our self-storage prices and services below to see how much you'll really save!
Compare Storage Companies: MetroBOX vs Taxibox Mobile Storage
Both MetroBOX and Taxibox have great websites where you can find most of the information easily enough, but if you're debating whether MetroBOX or Taxibox sizes, costs and general service would suit you best, we think you might appreciate this comparison table. This table compares storage between Taxibox and MetroBOX for one month and for 1 storage unit.
So What's The Final Storage Comparison Verdict?
Taxibox mobile storage provides a truly great service and we love the challenge of having such a high standard of competition. 
MetroBOX will give you an easier, faster, much more convenient and much cheaper storage solution with no hidden extras.
MetroBOX Are The Hands Down The Mobile Storage Winners!
So Hands Up Who Wants A MetroBOX?